9 IMDb
Greg Davies is the Taskmaster, and with the help of his ever-loyal assistant Alex Horne, they will set out to test the wiles, wit, wisdom and skills of fivecelebrity contestants. At the end of the series, who will be crowned the Taskmaster champion?
2023
03.30.
22:00
15×1
Epizód adatlap | SorozatJunkie | IMDb | Hozzászólások (0) |
Greg Davies sets tasks to Frankie Boyle, Ivo Graham, Jenny Eclair, Kiell Smith-Bynoe and Mae Martin compete, the intrepid players hoping to become the 15th Taskmaster champion. In this episode, Jenny dances around a giant golden pineapple in a wedding dress, while Frankie discovers why cats love balls of string so much. Greg's `Admiral of Admin" Alex Horne helps maintain order amid the chaos.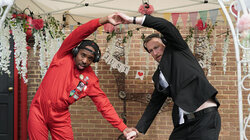 2023
04.06.
22:00
15×2
Trapped In A Loveless Marriage
Epizód adatlap | SorozatJunkie | IMDb | Hozzászólások (0) |
At Greg's request, Little Alex Horne has split his band five ways for the sake of a task. This in turn leads to Jenny Eclair imparting her knowledge on trumpeters and piles. And Frankie Boyle shares some pretty strong opinions on golf.