6.8 IMDb
Goku és Vegeta edzenek, eközben a jövőbéli Trunks meglátogatja őket. Egyszer csak Trunks eltűnik, és egy különös tinédzser jelenik meg, akinek a neve Fu és közli Gokuékkal, hogy a jövőbeli Trunksot bezárták egy helyre, amelynek a neve nem más mint a Börtön bolygó. Ez a bolygó az univerzumok között található, egyfajta semleges zóna. Ahhoz, hogy Gokuék megmenthessék Trunksot, össze kell szedniük a Sárkánygömböket és hosszas csatákat kell megvívniuk.
2022
02.23.
04:00
5×1
A Plan In Motion - The Mightiest Warriors From Across Space-Time Gather!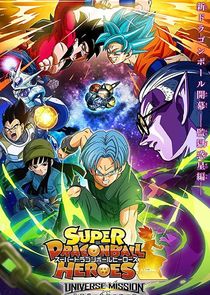 Epizód adatlap | SorozatJunkie | IMDb | Hozzászólások (0) |
In the Time Nest, Chronoa (the current Supreme Kai of Time) is confronted by the mysterious alien woman, who is revealed to be Aios, a former Supreme Kai of Time. On Earth, Goku is visited by a strange being who invites him to participate in the "Super Space-Time Tournament," a grand martial arts tournament involving many other timelines. Goku accepts the invitation and is transported to another realm, where he discovers that Gohan, Piccolo, Vegeta, Hit, Jiren, and Yamcha have also been invited to compete in the tournament as a team. They are introduced to the other teams, and it's revealed that there are twelve teams in total, each with seven members. The tournament announcer explains that the first round of the tournament will last 24 minutes and will be a battle among all twelve teams, where the objective is to either capture one of three Time Fairies, or to defeat all the members of the other teams. As the tournament begins, all seven members of the main timeline's team are transported to different locations on an unknown world. Goku is confronted by Xeno Goku, who reveals that Aios is hosting the tournament and that the Time Patrol have sent a team to participate because they have business with her. The two Gokus are attacked by a group of fighters from another team, and prepare to deal with them. As many other battles begin across the tournament grounds with 14 minutes remaining in the first round, Aios observes the proceedings from afar.
2022
03.31.
05:00
5×2
Fierce Battle in the Super Space-Time Tournament! The Warriors in Black Invade!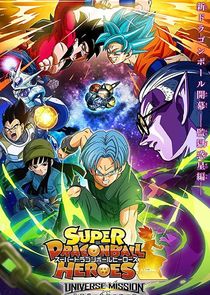 Epizód adatlap | SorozatJunkie | IMDb | Hozzászólások (0) |
With 7 minutes remaining in the first round, many battles continue raging throughout the tournament grounds. After defeating their attackers, the two Gokus begin fighting each other instead, while Yamcha manages to capture one of the three Time Fairies. This automatically qualifies the main timeline's team to move on to the next round, and they are all returned to the starting area, where they are greeted by the teams who managed to capture the two other Time Fairies: the Time Patrol team, and a team that includes Hearts and Cumber. The rest of the participating teams, however, do not return. Several mysterious warriors in black cloaks suddenly appear, and their leader explains that the losing teams have been erased from existence, along with their entire timelines. The cloaked leader explains that Aios is responsible for this, and instructs the remaining teams to prepare for the second round. However, Xeno Trunks is enraged by this revelation and attacks the cloaked leader, demanding that Aios return the Scroll of Eternity to the Time Patrol. Xeno Trunks begins fighting the cloaked leader, while Goku and Piccolo notice that the cloaked leader seems strangely familiar. Xeno Trunks and the cloaked leader each fire a powerful ki blast at each other, but Aios suddenly appears and negates both attacks. Xeno Trunks explains that Aios is a former Supreme Kai of Time, and Aios introduces herself as "the Selector of Space-Time."
2022
05.15.
05:00
5×3
Fierce Battle From Across Time! The Threat of the Warriors in Black!