7.6 IMDb
Signed, Sealed, Delivered is a wonderful combination of romance, comedy and drama that follows the lives of four postal detectives who transform themselves into a team of detectives to track down intended recipients of undeliverable mail. Their missions take them out of the office and into an unpredictable world where redirected letters and packages can save lives, solve crimes, reunite old loves and change futures by arriving late but somehow always on time.
The team includes charming Oliver O'Toole, a genius postal detective and the group's leader; new team member Shane McInerney, a technophile who brings 21st century sensibility to the group; free-spirited, "girl next door" Rita Haywith who has a photographic memory; and lovable Norman Dorman, a master in conventional research methods.
2021
10.18.
03:00
'21×1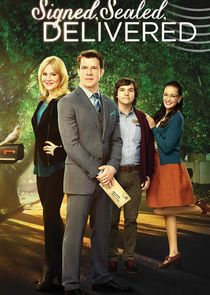 Epizód adatlap | SorozatJunkie | IMDb | Hozzászólások (0) |
As Shane and Oliver prepare for their wedding, they must pause to help a young boy fighting leukemia reunite with his long-lost friend. Their search is complicated by Shane's mother who arrives with her own plan for their wedding. Meanwhile, Rita and Norman navigate the challenges of trying to start a family, but a new employee in the Dead Letter Office may deliver the answer.