Bad Banks Színész- és szereplőlista
Jana Liekam szerepében:
Paula Beer 1995-02-01 Mainz, Rhineland-Palatinate, Germany
Paula Beer is a German actress. She first became known as a teenager by her main role in Chris Kraus's 2010 film Poll. Her breakthrough was in 2016, when she starred in François Ozon's Frantz, for which she won the Marcello Mastroianni Award, for best young performer, at the Venice Film Festival. Wikipedia
The Movie DB adatlap | IMDb adatlap
---
Gabriel Fenger szerepében:
Barry Atsma 1972-12-29 Bromley, England, UK
Barry Atsma is a Dutch actor. The family into which he was born moved many times, because Atsma's father worked as an expat for the Dutch-British multinational Unilever. Barry Atsma spent part of his youth in United Kingdom, Greece, Brasil and the Netherlands.
The Movie DB adatlap | IMDb adatlap
---
Christelle Leblanc szerepében:
Désirée Nosbusch 1965-01-14 Esch-sur-Alzette, Luxembourg
Désirée Nosbusch (born January 14, 1965) is a television presenter and actress. She was born in Esch-sur-Alzette, Luxembourg, and has one Luxembourgish parent and one Italian parent. In the 1980s she lived in Manhattan in New York City, and from the 1990s to 2008 she lived in Los Angeles, California. Nosbusch speaks Luxembourgish, German, French, Italian and English. She has acted in both French-language and German-language films and television productions since her mid teens for example she was a member of the youth drama group of the Lycée Hubert Clément of Esch-sur-Alzette (Luxembourg), and in at least one Italian language film. She presented the Eurovision Song Contest 1984 in Luxembourg & hosted a kid's version of Ruck Zuck called "Kinder Ruck Zuck". Nosbusch is also a singer. In 1984 she recorded a duet with Austrian singer Falco entitled "Kann es Liebe sein?". Description above from the Wikipedia article A. R. Désirée Nosbusch, licensed under CC-BY-SA, full list of contributors on Wikipedia.
The Movie DB adatlap | IMDb adatlap
---
Adam Pohl szerepében:
Albrecht Schuch 1985-08-21 Jena, Germany
Albrecht Schuch was born in 1985 as Albrecht Abraham Schuch. He is an actor, known for Die Vermessung der Welt (2012), Neue Vahr Süd (2010) and Westwind (2011).
The Movie DB adatlap | IMDb adatlap
---
---
Quirin Sydow szerepében:
Tobias Moretti 1959-07-11 Innsbruck, Austria
Tobias Moretti (born Tobias Bloéb; 11 July 1959) is an Austrian actor. Born in Gries am Brenner, Tyrol, Moretti is the eldest of four brothers, including Thomas, Christoph and fellow actor Gregor Bloéb. Since 1997 he has been married to Julia Moretti (née Wilhem), an oboist. They have three children, Antonia (born August 1998), Lenz Valentino (born February 2000) and Rosa Cäcilia (born February 2011). His professional surname comes from his mother, who is of Italian descent. Moretti studied composition at the Vienna University of Music and Applied Arts, then went to Munich to train for the stage at the renowned Otto-Falckenberg-Schule. After graduation he was a permanent member of the Bayerisches Staatsschauspiel ensemble (Frank Baumbauer) and played at the Munich Kammerspiele (Dieter Dorn) from 1985 to 1995 where he earned critical praise in a sweeping variety of productions, appearing in Bertolt Brecht's Man is Man, Achternbusch's Der Frosch (The Frog) and playing the lead in Shakespeare's Troilus and Cressida. Moretti appeared in the TV series Inspector Rex from 1994 to 1998 as Richard Moser, the main policeman in the murder unit. Source: Article "Tobias Moretti" from Wikipedia in English, licensed under CC-BY-SA 3.0.
The Movie DB adatlap | IMDb adatlap
---
Robert Khano szerepében:
Jean-Marc Barr 1960-09-27 Bitburg, Rhineland-Palatinate, Germany
From Wikipedia, the free encyclopedia Jean-Marc Barr (born on 27 September 1960 in Bitburg, Rhineland-Palatinate, Germany) is a French-American film actor and director. His mother is French. His American father was in the US Air Force and served in the Second World War. Jean-Marc Barr is primarily known as an actor, but is also a film director, screenwriter and producer. Barr is bilingual in French and English: he speaks French with a nasal, hybrid accent, reminiscent of his American upbringing - with a slight American accent and occasional anglicisms in interviews - and English with a Mid-Atlantic accent. He studied philosophy at the University of California, Los Angeles, the Paris Conservatoire and the Sorbonne. He went on to pursue an education in drama at the Guildhall School of Music and Drama in London. In London he met his future wife, a pianist and composer Irina Dečermić. Jean-Marc Barr began working in theatre in France in 1986. After some television roles and film work, in particular, Hope and Glory (1987) by John Boorman, he was cast in the tremendously successful The Big Blue (1988). Luc Besson cast him in the role of French diver Jacques Mayol. He played in the role opposite Rosanna Arquette and Jean Reno. The Big Blue was the most financially successful film in France in the 1980s. In 1991, he starred in Danish director Lars von Trier's Europa, marking the beginning of a long friendship (he is the godfather of von Trier's children) as well as a significant professional relationship. He went on to appear in von Trier's Europa (1991), Breaking the Waves (1996), Dancer in the Dark (2000), Dogville (2004) and Manderlay (2005). Also in 2005 he starred in the French film Crustacés et Coquillages. His collaboration with von Trier put him on track to start directing his own work. He debuted in 1999 as a director, screenwriter and producer with the intimate love story Lovers. This film became the first part of a trilogy; the two subsequent parts being the drama Too Much Flesh (2000) and the comedy Being Light (2001) which he co-directed with Pascal Arnold. He may also be recognized for his role as the attractive divorce lawyer, Maitre Bertram in the Merchant Ivory film le Divorce (2003). He appeared as Hugo in The Red Siren in 2002. He appeared as the main character in the video for Blur's 1995 single, "Charmless Man". Description above from the Wikipedia article Jean-Marc Barr, licensed under CC-BY-SA, full list of contributors on Wikipedia.
The Movie DB adatlap | IMDb adatlap
---
---
---
Shantimay Bhardevej szerepében:
Utsav Agrawal
Ökozid
film
TMDb
---
---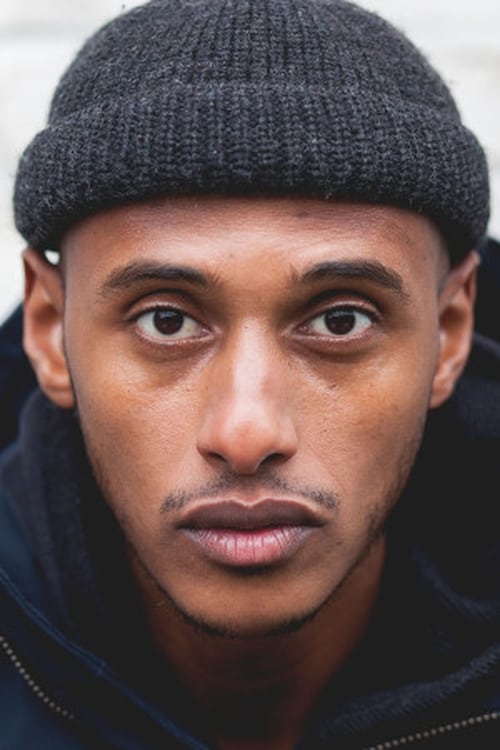 David Kubiak szerepében:
Tedros Teclebrhan 1983-09-01 Asmara, Eritrea
Von Wikipedia: Teclebrhan wurde 1983 als jüngster von drei Söhnen in Eritrea geboren. Er wuchs in Mössingen auf und besuchte nach seinem Zivildienst die internationale Schauspielakademie CreArte in Stuttgart, die er 2008 abschloss. Seine ersten Fernsehrollen übernahm Teclebrhan 2009, so spielte er im SWR den schwäbelnden Tankstellenpächter Peter Gesesse in Laible und Frisch und im ZDF den rheinischen Drogendealer Moel in der Krimiserie Kommissar Stolberg.
The Movie DB adatlap | IMDb adatlap