6.8 IMDb
Angel City is a gripping docuseries that goes behind the scenes and onto the pitch of the groundbreaking Los Angeles-based professional women's soccer team, Angel City Football Club. Pulling back the curtain on the origin story through the 2022 inaugural season of the female-founded and led team, the series reveals the passion and grit needed to build a franchise from scratch and blaze a bold trail in the world of professional sports. 
2023
05.17.
03:00
1×1
Epizód adatlap | SorozatJunkie | IMDb | Hozzászólások (0) |
Three determined women come together from different industries- entertainment, business, and gaming - in an unexpected way, to answer the question, 'what would it look like if we did things different and started a team?' As Natalie Portman, Kara Nortman, and Julie Uhrman begin the process of building Angel City Football Club from the ground up ahead of its first season in the NWSL, they realize bucking the status quo can be a tightrope walk and changing systems from the inside isn't always easy.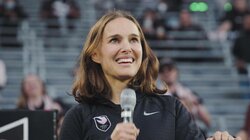 2023
05.18.
03:00
1×2
Part II – Running with the Angels
Epizód adatlap | SorozatJunkie | IMDb | Hozzászólások (0) |
From the moment they hit the pitch, the stakes are high, the pressure is intense, and the passion is palpable. As players and staff deal with the stress of living up to the club's ambitious goals, ACFC kicks off their inaugural NWSL season at home in front of a vibrant, star-studded crowd. Riding high on their early season results, the club soon finds its identity challenged and a devastating injury puts the team's resiliency to the test.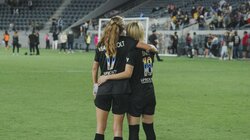 2023
05.19.
03:00
1×3
Part III – It's Who We Are
Epizód adatlap | SorozatJunkie | IMDb | Hozzászólások (0) |
Tensions mount as ACFC searches for solutions in their roster while fighting for a playoff spot during the final weeks of their inaugural season. Looking to build on their success, the club's co-founders turn their attention to the future, confident that their vision will usher in a new era for professional women's soccer.