Linda Tripp szerepében:
Sarah Paulson 1974-12-17 Tampa, Florida, USA
Sarah Catharine Paulson (born December 17, 1974) is an American actress. She began her acting career in New York City stage productions before starring in the short-lived television series American Gothic (1995–1996) and Jack & Jill (1999–2001). She later appeared in comedy films such as What Women Want (2000) and Down with Love (2003), and drama films such as Path to War (2002) and The Notorious Bettie Page (2005). From 2006 to 2007, she starred as Harriet Hayes in the NBC comedy-drama series Studio 60 on the Sunset Strip, for which she received her first Golden Globe Award nomination. In 2008, she starred as Ellen Dolan in the superhero noir film The Spirit. Paulson has appeared on Broadway in the plays The Glass Menagerie in 2005 and Collected Stories in 2010. She also starred in a number of independent films and had a leading role in the ABC comedy series Cupid (2009). She later starred in the independent drama film Martha Marcy May Marlene (2011) and received Primetime Emmy Award and Golden Globe Award nominations for her portrayal of Nicolle Wallace in the HBO film Game Change (2012). She was featured as Mary Epps in the 2013 historical drama film 12 Years a Slave, as Abby Gerhard in the 2015 romantic drama film Carol, and as Toni Bradlee in the 2017 political drama film The Post, all of which were nominated for multiple Academy Awards. Her other films include Serenity (2005), New Year's Eve (2011), Mud (2012), Blue Jay (2016), Ocean's 8 (2018), Bird Box (2018), Glass (2019), and Run (2020). In 2011, Paulson began starring in the FX anthology series American Horror Story, playing different characters in many of the show's 10 seasons. For her performances in the series, she received five Primetime Emmy Award nominations and won two Critics' Choice Television Awards. In 2016, she portrayed real-life prosecutor Marcia Clark in the first season of the anthology series American Crime Story, subtitled The People v. O. J. Simpson, for which she garnered critical acclaim and numerous accolades, including the Primetime Emmy Award and the Golden Globe Award. In 2020, Paulson appeared in the FX limited series Mrs. America, and began starring as Nurse Mildred Ratched in the Netflix psychological thriller series Ratched. In 2021, she returned to American Crime Story to portray Linda Tripp in the third season of the show, subtitled Impeachment.
The Movie DB adatlap | IMDb adatlap
---
Monica Lewinsky szerepében:
Beanie Feldstein 1993-06-24 Los Angeles, California, USA
Elizabeth Greer "Beanie" Feldstein (born June 24, 1993) is an American actress. She first gained recognition for her starring roles in the comedy film Neighbors 2: Sorority Rising (2016), the comedy-drama film Lady Bird (2017), and the coming-of-age comedy film Booksmart (2019), the latter of which earned her a nomination for the Golden Globe Award for Best Actress – Motion Picture Comedy or Musical. Feldstein has appeared on the Broadway stage, making her debut as Minnie Fay in Hello, Dolly! (2017–18) and portraying the lead role of Fanny Brice in the first revival of Funny Girl (2022), a performance for which she earned a nomination for the Drama League Award for Distinguished Performance. In 2021, she portrayed Monica Lewinsky in the third season of the FX anthology series American Crime Story: Impeachment.
The Movie DB adatlap | IMDb adatlap
---
Paula Jones szerepében:
Annaleigh Ashford 1985-06-25 Denver, Colorado, USA
Annaleigh Amanda Ashford (born June 25, 1985) is an American actress, singer, and dancer. She is known for her work on Broadway as Glinda in Wicked (2005–2006; 2007–08), and Margot in Legally Blonde (2007), as well as for originating the role of Lauren in Kinky Boots (2013–14), a performance for which she received a 2013 Tony nomination. Ashford won the 2015 Tony Award for Best Featured Actress in a Play for her performance as Essie Carmichael in the revival of You Can't Take It with You (2014–15). In 2017, she starred as Dot/Marie in the critically acclaimed, limited-run revival of Sunday in the Park with George. Additionally, she is known for portraying the role of Betty DiMello on the period drama television series Masters of Sex, which ran for four seasons on Showtime. In 2019, she starred as Jenny Aquila in Bad Education, and, in 2020, as Paula Jones in Impeachment: American Crime Story. Description above is from the Wikipedia article Annaleigh Ashford, licensed under CC-BY-SA, full list of contributors on Wikipedia.
The Movie DB adatlap | IMDb adatlap
---
Lucianne Goldberg szerepében:
Margo Martindale 1951-07-18 Jacksonville, Texas, USA
Margo Martindale (born July 18, 1951) is an American film, stage, and television actress. In 2011, she won an Emmy Award for her role as Mags Bennett on Justified. She has played supporting roles in several films, including The Hours, Million Dollar Baby as Hilary Swank's character's mother, The Firm, Lorenzo's Oil, Marvin's Room, The Savages, and Paris, je t'aime. She was also nominated for a Tony Award for Best Featured Actress in 2004. Margo Martindale was born July 18, 1951, in Jacksonville, Texas, to parents William Everett and Margaret (Pruitt) Martindale. In addition to owning and operating a lumber company in Jacksonville, her father was known as a champion dog handler in Texas and throughout the southern United States. Margo was the youngest of three children and only daughter. Her oldest brother is professional golfer and golf course designer Billy Martindale. Middle child, brother Bobby Tim, died in 2004. Margo Martindale participated in golf, cheerleading and drama while in school and was crowned "Football Sweetheart" as well as "Miss Jacksonville High School 1969."  Following graduation from Jacksonville High School in 1969, Martindale attended Lon Morris College, then transferred to the University of Michigan at Ann Arbor. While at Michigan, she also did summer study at Harvard University, appearing onstage with future movie and TV stars Jonathan Frakes and Christopher Reeve. Description above from the Wikipedia article Margo Martindale, licensed under CC-BY-SA, full list of contributors on Wikipedia.
The Movie DB adatlap | IMDb adatlap
---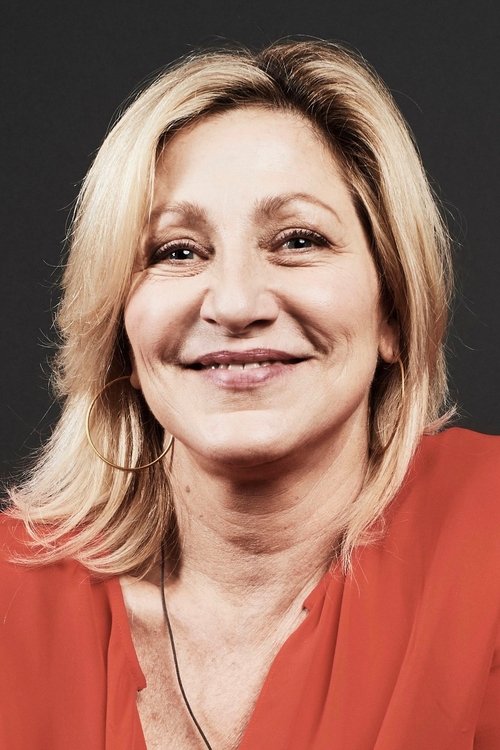 Hillary Clinton szerepében:
Edie Falco 1963-07-05 Brooklyn, New York, USA
Edith Falco (born July 5, 1963) is an American actress. She is best known for her roles as Carmela Soprano on the HBO series The Sopranos (1999–2007), and as Nurse Jackie Peyton on the Showtime series Nurse Jackie (2009–2015). She is also known for her role as Diane Whittlesey in HBO's prison drama Oz (1997–2000). In 2016, she played Sylvia Wittel on the web series Horace and Pete. In 2017, she portrayed defense attorney Leslie Abramson in the first season of the true crime anthology series Law & Order True Crime. Falco's film work includes lead roles in Laws of Gravity (1992), for which she was nominated for the Independent Spirit Award for Best Female Lead and Judy Berlin (1999), and supporting roles in films including Sunshine State (2002), Freedomland (2006), and The Comedian (2016). For her role in the 2011 Broadway revival of The House of Blue Leaves, she earned a nomination for a Tony Award for Best Featured Actress in a Play. Falco's work has been widely acclaimed - among other recognitions, she has won two Golden Globe awards (from eleven nominations) and four Emmy awards (from fourteen nominations), all for individual performances. Description above from the Wikipedia article Edie Falco, licensed under CC-BY-SA, full list of contributors on Wikipedia
The Movie DB adatlap | IMDb adatlap
---
Bill Clinton szerepében:
Clive Owen 1964-10-03 Keresley, Coventry, Warwickshire, England, UK
Clive Owen (born 3 October 1964) is an English actor, who has worked on television, stage and film. He first gained recognition in the United Kingdom for portraying the lead in the ITV series Chancer from 1990 to 1991. He then garnered critical acclaim for his work in the film Close My Eyes (1991) before getting international notice for his performance as a struggling writer in Croupier (1998). In 2005, Owen won a Golden Globe and a BAFTA Award and was nominated for an Academy Award for Best Supporting Actor for his appearance in the drama Closer (2004). He has since played leading as well as supporting roles in films such as Sin City (2005), Inside Man (2006), Children of Men (2006), and The International (2009). Description above from the Wikipedia article Clive Owen, licensed under CC-BY-SA, full list of contributors on Wikipedia
The Movie DB adatlap | IMDb adatlap